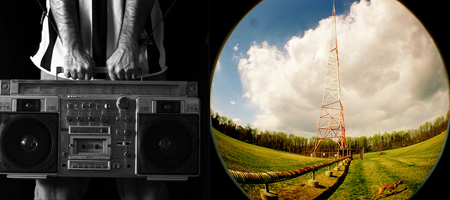 (Photos by joniraundegi/flickr and sandcastlematt/flickr)
Radiolab provides several different platforms from which listeners can access present and past shows:
~ Traditional Radio Transmitters: Radiolab airs on various stations throughout the country. Find out if your local public radio station carries Radiolab.
~ Podcasts & RSS Feeds: Get automatic updates and/or downloads from Radiolab.
~ Archived Audio: Find out more about listening to Radiolab on our website by visiting our Audio Help page.
~ Live in The Greene Space: Occasionally, Jad and Robert have live events in WNYC's Jerome L. Greene Performance Space. Visit TheGreeneSpace.org for more information.
Troubleshooting answers questions about malfunctioning streams and bookmarks and provides extra help with iTunes and Windows Media Player.
If you have questions or comments, please contact WNYC Listener Services.