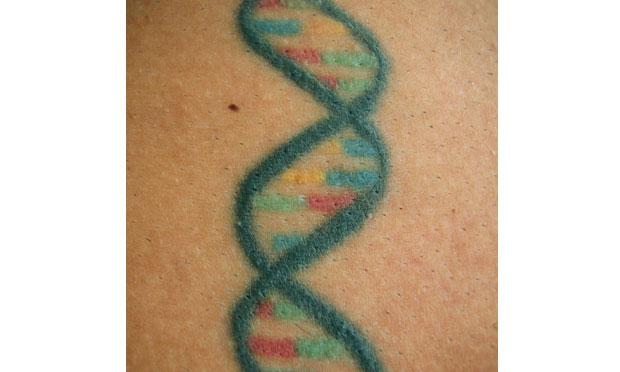 (Image adapted from Science Ink by Carl Zimmer © Sterling Publishing, 2011.)
Carl Zimmer's latest book got its start in a swimming pool. Carl was at a party one summer, when he noticed something new about his longtime friend Bob: a tattoo of what looked like a little strand of DNA on his shoulder.  
Bob is a neurobiologist, and since he was studying fruit fly genes at the time, the tattoo wasn't entirely out of left field. But it turned out there was more to the story. Encoded in the ink is a message--depending on how you read the genetic code, it either says "EEE" (the initials of Bob's wife) or "glutatmate-glutamate-glutamate."
Carl wondered if other science enthusiasts were wearing their hearts on their sleeves, so he put out a call on his blog, and started collecting the photos and stories that streamed in. Now, he's compiled hundreds of science-themed portraits into a new book of body art and essays. Have a look at the slideshow below, and if you like what you see, you can pick up a copy of Science Ink: Tattoos of the Science-Obsessed here.