For our inaugural installment of Brain Fodder -- a collection of the strange and wonderful things on the minds of Radiolab staffers each week -- we've got a temporary statue, some shedding velvet, an underground marvel, and lots more...
Molly Webster
Molly's been enjoying some morbid curiosities:
"My recent trip to the UK got me thinking about the weird museums that the Mother Country has to offer, not least of which include The Hunterian Collection in London, a crazy collection of human fetuses, ethered animals, disease-addled body parts, and an Irish giant, gathered during the 18th century, from around the world. Feeding my obsession, an American living in England has offered me more ghoulish, curated delights, which I'm now Googling like mad: the shrunken heads and sheep hearts bound with cloth at the Pitts River Museum, at Oxford University; the pregnancy chair and cursed galleon at Ye Olde Trip to Jerusalem (an establishment that claims to being the oldest pub in England, but where I remember eating the best nachos I've ever had while not sitting in the pregnancy chair); and the hexes stored at the Roman Springs at Bath (where the hexing reads something like, 'For that a*!hole that stole my cloak, I hope you die a thousand deaths...')."
Brenna Farrell
Brenna encountered some large herbivores: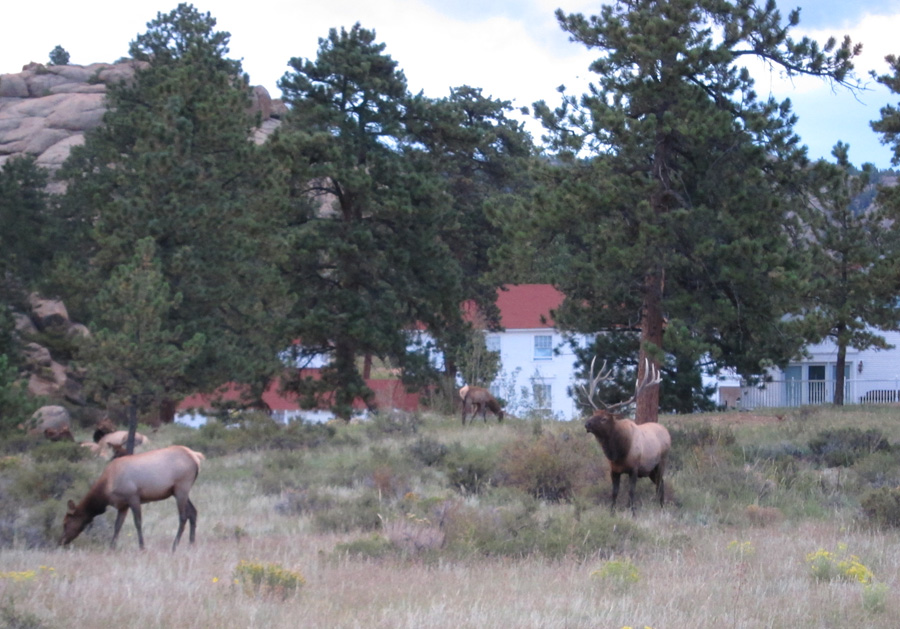 "I saw my first real-live elk this month! Right outside the hotel that inspired Steven King to write The Shining ... in Estes Park, Colorado. Elk are HUGE. And at this time of year, about to begin 'the rut.' So I didn't get too close. But my fleet-of-finger husband snapped a quick picture before we decided to retreat."
Andy Mills
Andy has been sifting through a great internet collection of audio tape:
"Random Tape, one of producer David Weinberg's many projects, is an unpredictable audio treat. His surprising vignettes always inspire me to be riskier (with both my radio making and my life)."
Here's one of Andy's favorites from the site (featuring Matthew Kielty, who you might recognize from our short Wake Up and Dream).
Dylan Keefe
Dylan snapped a photo of a sculpture he passes on his way to work: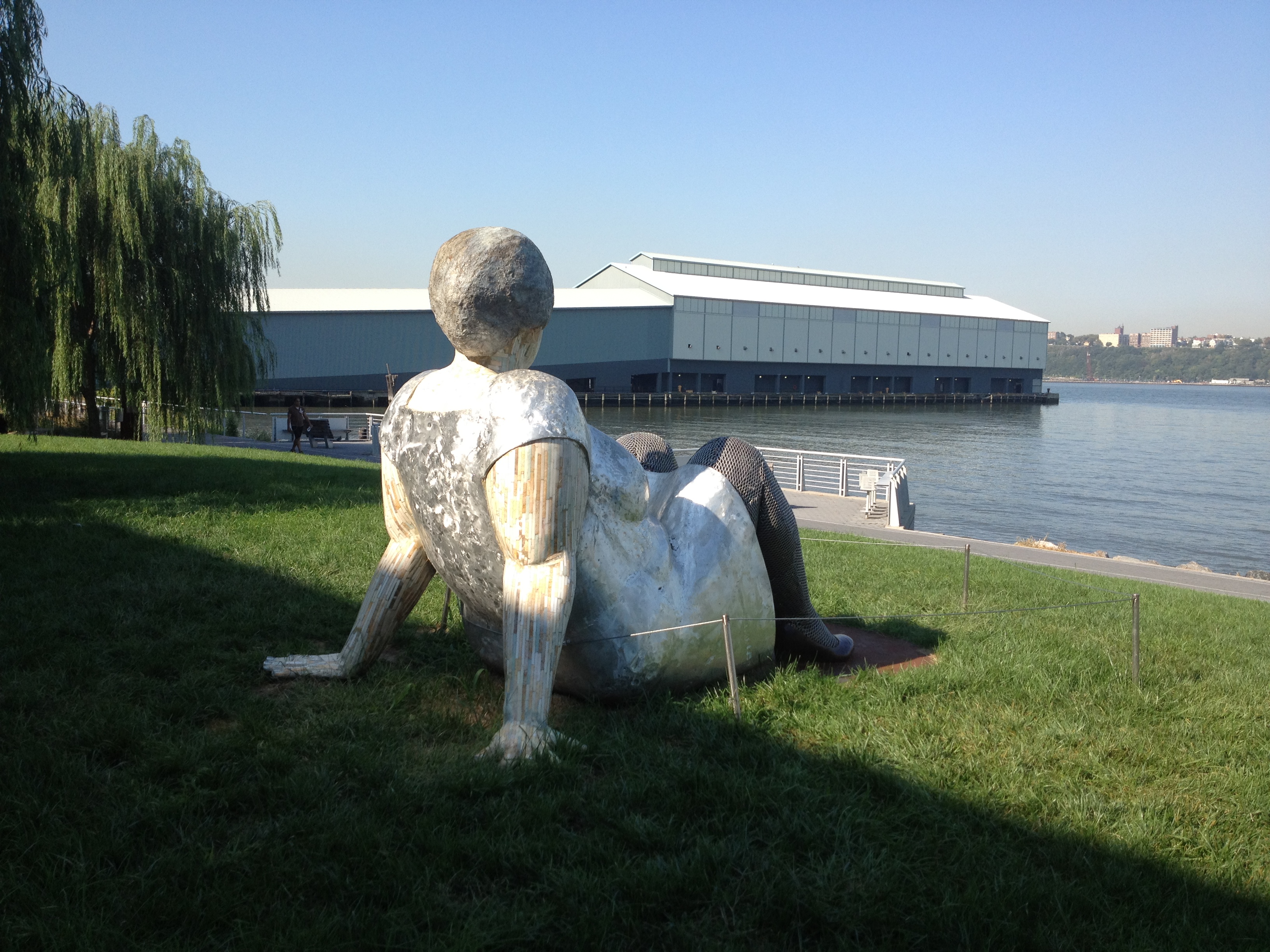 "Every day while cycling downtown along the Hudson, I pass this sculpture. With all the clever, cerebral public art in New York, this piece warms my heart. It tells me to stop. Enjoy. Take in. Simple. I love it. She is beautiful."
The sculpture is called "Watching Upon the Present," by Sequoyah Aono. It's made of stone and stainless steel, and is part of The Art Students League of New York's Model to Monument Program. It's only on display for one year: from June 2012 to June 2013.
Malissa O'Donnell
Malissa is all about The Lowline this week, a plan to turn a trolley terminal beneath New York City's Delancey Street into a High Line-like park. The designers have come up with a way to collect light above ground and filter it underground to create a green space. "Such awesome technology!" says Malissa.
Pat Walters
Pat has a page-turner in his hands:
"I'm reading this book called Behind the Beautiful Forevers, by Katherine Boo. Robert suggested I read it, and it's magnificent. Boo spent three and a half years hanging out in a tiny slum in Mumbai, India — half an acre, 3,000 people — gaining deep access to the lives of the people who call that place home. People have written lots of things about India, about the poverty there, the slums, but nobody has written anything even remotely like this before. I'm only halfway through, but I already feel like I truly know the family Boo's narrative centers on.

The book is impressive on many levels, but the thing I think I love the most is the detail she was able to get, the dialogue, just from hanging around long enough that people got real, acted like themselves in front of her. Or her Flip video camera (below). Boo writes in the author's note that she sometimes used the camera to take down visual details of scenes she wanted to write, and at a certain point, some of the kids from the slum started using it, taking it around with them and filming on their own. They gave her some brilliant stuff."
Lynn Levy

This week, Lynn's been obsessing over images of antlered ungulates shedding velvet. Though she's not sure exactly when or why the velvet sometimes peels off in a bloody drapery, she is sure the pictures are stomach-churningly wild.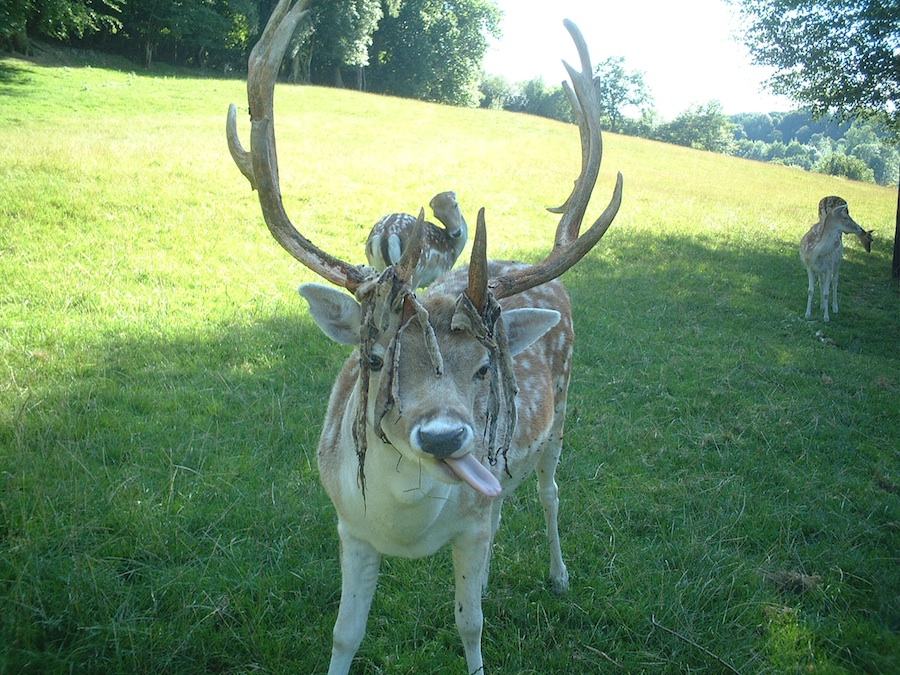 Photo by Stefan Ivanovich CC-BY-SA-3.0, via Wikimedia Commons
Kelly Slivka
Author Edward Abbey's been making Kelly think a lot this week about what endures:
"I watched a video essay co-produced by Edward Abbey that never made it to TV. In the essay, Abbey wanders Arches National Parks and speaks in his unassuming, slightly sardonic manner about the infrastructural changes to the park over the years he's known it. And he talks about the parts of the park that won't change, probably until long after we're gone. The video was recorded only three years before he died."