This week: pillow lava, pale ale, and an intense soundtrack. 
Molly Webster
Molly rekindles a lost love:
Two words: pillow lava.
Let me take you there: remember when you were small, and the world was small, and there were those things that you just KNEW about, because they were so powerful and awe-inspiring? Dinosaurs are one of those things. Another was volcanoes -- those awesome forces of nature spewing lava the unholy color of golden red. God, to see that oozy, lurching, creature-like goo engulfing, inflaming ... It's a very visceral volcano to me. And I had forgotten that feeling. I was reconnected to it this past weekend, watching "Kilauea: Mountain of Fire":
During this show, I literally screeched, "NO WAY," at my TV screen when they showed underwater footage of "pillow lava." This is lava that's spewed, by way of below-ground lava tubes, straight into the crashing belly of the ocean. Truthfully, I don't know much more about it than that, but THIS bunch of lava is a bulbous, inflating, deflating, charred voluminous billowy candy that I feel the need to scoop up and stretch out, like pulling taffy, or overcooking marshmallows in the microwave. Watch these videos, and tell me you don't feel the same: this one's a bit grainy, but it's the best; and here's the clip from the PBS show.
Ellen Horne
Ellen weighs in with a very early Oscar pick:

It's a long way from the Academy Awards (and full disclosure, I haven't seen this movie, so this is pretty much just my empty bravado, but...) my money is on "Looper" for best score. This week, I happened across a video of Nathan Johnson's preview of the intense soundtrack:
LOOPER Nathan Johnson Score Preview 1 - Field Recordings from Nathan Johnson on Vimeo.
Johnson made instruments out of door stops, treadmills, fans, glass jars -- much like Jad does to create scoring for Radiolab's stories -- and composed a gripping, unsettling world of sound. There are also videos about percussion made from car doors, pipes, and sheets of metal. And videos about melodic instruments that are fascinating peeks into the process of building an original score.
Andy Mills
Andy suggests a winning beer / book combo: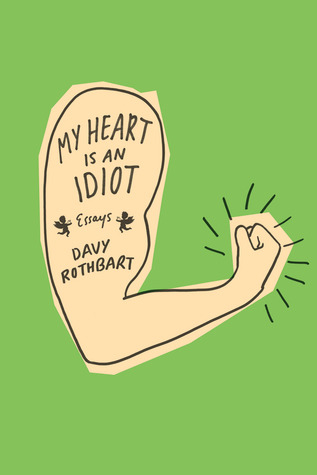 Some folks like to pair wines and cheeses. I like to pair books and beers. Currently the book is My Heart is an Idiot, essays by Davy Rothbart. And my reading-companion-beer is Dale's Pale Ale. You might know Davy Rothbart from his work on "This American Life" or his magazine, "FOUND," but his new book is like nothing else I've ever read. On the inside of the book's cover there one quote from Ira Glass, "I believe in Davy."  And another from Kid Rock, "This is a badass book." I feel like that says a lot about it. As for Dale's Pale Ale, it's a hoppy Colorado beer that takes me back to late night bars in Denver with my best friends (something that couples perfectly with reading Rothbart). And to my surprise, I discovered that this beloved beer can be found at the Tibetan corner grocery store a block away from my Brooklyn apartment!
Kelly Slivka
Kelly muses about animal stacking behaviors:
The first time I remember hearing about an animal standing on another animal (outside the Cirque du Soleil) was in the classic Radiolab story Goat on a Cow. But lately I've seen a series of photos of animals standing on animals, from a dog on water buffaloes to a goat on a hippo (thanks to a tip from a listener).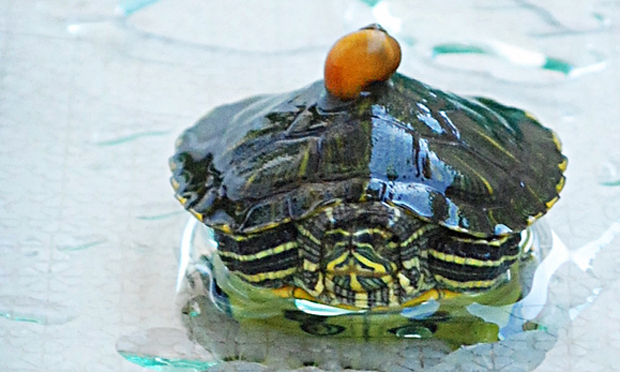 A snail on top of a pet turtle. Photo via aloshbennett/flickr_CC-BY-2.0.
These photos make me wonder -- what is an animal using another animal as a platform thinking? "Thank goodness for this point of leverage, but I'm kind of freaked out that it's moving?" Or, "Ha, who's the king of the jungle now?"
Malissa O'Donnell
Malissa's mind has been on theater and mathematics -- and how two of her favorite plays have math and science as pivotal plot points. First: Tom Stoppard's Arcadia involves physics, thermodynamics, chaos theory, fractals, population dynamics, and iterated algorithms. (And, FUN FACT, Malissa was lucky enough to work on the 2011 Broadway revival). Second: Proof by David Auburn hinges on mathematical genius and mental illness. Both are totally awesome and worth a read.
Chris Berube
Chris headed to Third Coast International Audio Festival, where one of the winners made a big impression:
Third Coast is great -- a giant audio nerd party that concludes with an awards ceremony for the best radio documentaries of the year. I would recommend all of the winners this year, but one that really struck me won the Director's Choice award -- it's a piece called "String" from the Australian Broadcasting Corporation. The premise is strange and funny: Producer Natalie Kestecher is notoriously indecisive, so she begins using a piece of string with a paperweight tied to it to make decisions for her. The production is poetic and a little discomfiting, a meditation on free will and chance. It really draws you in.