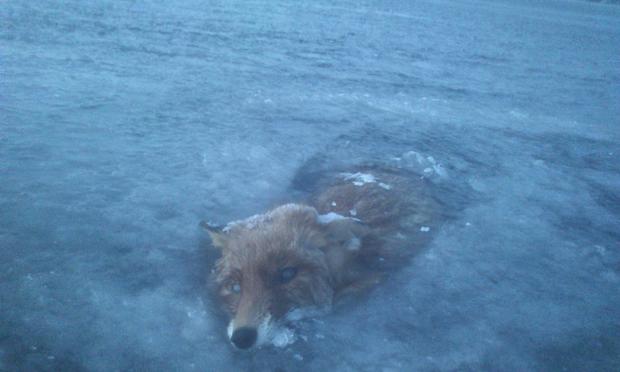 (Photo Credit: Jeffer Sandstrom)
What do frozen horses and a scorching universe have in common? That's what we wanted to know.
When we started reporting a fantastic, surreal story about one very cold night, more than 70 years ago, in northern Russia, we had no idea we'd end up thinking about cosmology. Or dropping toy horses in test tubes of water. Or talking about bacteria. Or arguing, for a year. Walter Murch (aka, the Godfather of The Godfather), joined by a team of scientists, leads us on what felt like the magical mystery tour of super cool science. Are you ready? We're not sure we've recovered.
Our supercooling demonstration (with a tiny horse):
For more video of our trip to the lab, check out:
Jad grows ice, with one finger (sorta)
And it turns out, our podcast has something to do with some pret-ty big new physics announcements, about possibly one of the earliest supercooling events in the universe, moments after the Big Bang.
Special thanks to: Aatish Bhatia, Marine Boudeau, Heli David, Jeanne Garbarino, Mark Martin, Jeffer Sandström, Inger Sjøberg, Martin Truffer, Mark Tuckerman, Jason Wexler, and all the Russian and Finnish translators who helped us via Facebook & Twitter.
Correction: In this short Hubert Reeves is referred to as 'the French Carl Sagan', Reeves lives in France but he was born in Quebec, Canada and is French-Canadian. Additional audio has been added to reflect this fact.