Pat Walters
Pat is not pulling our legs, the world now contains a 170-foot long trampoline, in the Kaluga region of western Russia:
Lynn Levy
Lynn's fallen for a strange new short film by Philip Bacon:
I won't try to explain what happens in this little movie. I'm not sure I quite understand, myself. But I'm in love with the world Bacon created in his 8-and-a-half minutes, a world of jelly beans and bunny costumes and thermoses and death; a world with very different rules from ours, but with all the same pesky emotions.
If you want more short strange stuff like this, poke around on Short of the Week, a beautifully designed & lovingly curated site that almost always has something interesting on offer.
Molly Webster
Molly recommends taking a really close look at the human body:
What I love about science, particularly biology, is that it dives into the things we see all around us, and it illuminates what's going on down there, in there, beneath there, up there... in all those places and spaces where daily life continues onward -- and through Lennart Nilsson's lens, we are able to take this journey at such an intimate level. The world might remember Nilsson as the first person to snap a photo of a human embryo (and then the first to capture both the HIV and SARS viruses); I recently discovered him and I can't stop geeking out over his photographs: a cell sentinel engulfs an invading bacteria; a marauding virus floats away from a host, having stripped it of its protective coating; sperm swim, land, and tip, push, slide into an egg; a fetus adjusts her (or his) hand. Though we can't always see it, Nilsson reminds us -- me -- that at its base, life is a micro-series of interactions that are real; that can be intercepted, changed, and observed. And also, wondered at.
Brenna Farrell
Brenna takes heart from two ludicrous questions -- one involving a burger, and the other a batch of donuts:
If you haven't seen these videos yet, they're pretty great. A little backstory before you hit play -- Jia's plan is to toughen himself up by making insane requests to strangers, so he's comfortable hearing people tell him "No" a lot as an entrepreneur. For example:
Burger refill denied, he geared up for a bigger "No"... and then he met Jackie, who threw his plans for a donut-shaped, viral-video-making loop:
Chris Berube
Chris shuffles off to Buffalo...grammar-wise:
I've been thinking about complicated grammar. When writing, you ideally like to avoid repeating words in a sentence - for example, sometimes there's a temptation to write "It's its" -- that is to say "The dog is having a party next week -- it's its first birthday." A more common one is "had had" as in, "He had had an awful time on vacation." While it's common to do this in speech, in my experience, newspaper editors hate it.
In the early 80s, students at the University of Buffalo created the ultimate sentence to drive editors nuts -- a grammatical phrase that is entirely made up of the same word. They came up with a few examples, like, "Dog dogs dog dogs dog." But the most annoying, and most notable, that they put together has got to be, "Buffalo buffalo buffalo buffalo buffalo buffalo."
As professor William Rapaport points out, you can make a grammatical, though hardly euphonic, sentence out of a single word pretty easily. Here's how this one works: Buffalo is a place and a noun, but also a verb, meaning "to bully." So this sentence means "Some buffalo from Buffalo are currently buffaloing (in a distinctly Buffalo way - in this case, a Buffalo buffalo is like a 'French kiss') some other buffalo who are also residents of Buffalo." Make sense?
I first saw this while clicking through links on Wikipedia, but have since found out that Steven Pinker has a section on the buffaloes in his great book The Language Instinct.
Tim Howard
Tim recommends a storytelling podcast in Spanish:
For those of you who speak Spanish and enjoy narrative radio, there's a great new podcast called Radio Ambulante. Along the lines of This American Life and Radiolab, they do stories big and small (and mostly non-fiction) that cluster around a different theme each episode. The most recent hour is "Milagros" (Miracles):
Malissa O'Donnell
A twist on a classic game has Malissa's fingers tickling -- Rock, Paper, Scissors, Lizard, Spock:

For those of you out there who are fans of TVs The Big Bang Theory, you already know about this expanded version of the classic rock paper scissors.
The inventors of the variation, Sam Kass and Karen Bryla, were aiming to cut down on the occurrence of ties in the original when played by people who know each other fairly well. So they came up with this alternative:
Scissors cuts Paper,
Paper covers Rock,
Rock crushes Lizard,
Lizard poisons Spock,
Spock smashes Scissors,
Scissors decapitates Lizard,
Lizard eats Paper,
Paper disproves Spock,
Spock vaporizes Rock,
Rock crushes Scissors!
Kelly Slivka
Kelly's been looking for help in all the wrong places: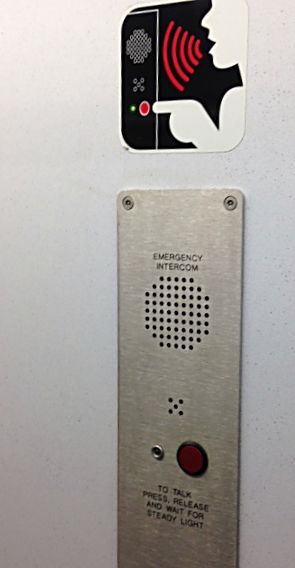 If you live in New York City, you might have noticed that there's an emergency intercom system on the wall of each subway car. Maybe you've even had to use it to help an ailing co-passenger. On Tuesday morning of last week, I found myself standing on the subway during rush hour, packed shoulder-to-shoulder and front-to-back with strangers like a Terra Cotta Soldier, overheating in my winter jacket, almost half an hour late to work due to a breakdown on the track, and about to scream. As I stared at the subway car's wall, bumping knees with the person sitting on the bench facing me, and trying to inure myself to the desperation of the morning commute, I noticed this intercom system -- really noticed it -- for the first time.
"EMERGENCY INTERCOM," its steel-plated face reads. "To talk, press, release and wait for steady light." It seemed like the kind of thing Banksy would graffiti on the side of a brick post office in a rough neighborhood. But the humor of it...of my needing help and right there help was being offered but not in a way I could possibly use...helped me survive the commute. I suppose now those intercoms will always make me smile.