We had a blast in Seattle last weekend -- we were in town for Radiolab Live: in the Dark, and we took a little time to explore while we were in town.
First up, we headed to Two Beers Brewing Co., where over a hundred nimble-fingered Radiolab fans pitched in at a pre-show chore party to help us with some essential prop assembly. Thanks to everybody who came out to lend a hand, and thanks to Two Beers for letting us take over the place for a few hours!
Here's Tasting Manager Dan Amerdang (best title ever?) with our very own Executive Producer, Ellen Horne, toasting all our hardworking volunteers: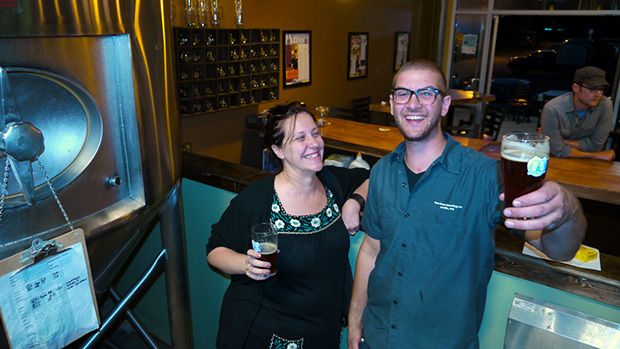 Friday night, and our name in lights! Woohoo -- how 'bout this marquee at the Paramount?:
Friday's show was awesome. We got up Saturday full of energy and ready for trouble. So we ran around town for a bit of sightseeing with some eyeball-clad dancers from Pilobolus (the amazing dance troupe we're teaming up with for In the Dark). Here they are at Pike Place Market, bravely holding their ground as a whopping fish whizzes by their heads:
A good time was had by all, especially two lucky fans who got to hang with Jad and Robert backstage after the show on Saturday -- Marika Zimmerly from Portland, Oregon and her guest Chris, the winners of the Stitcher Flyaway contest to see Radiolab live in Seattle: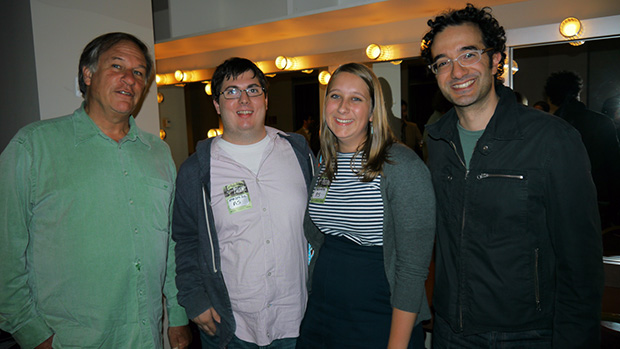 Catch you later, Seattle!